Term Life Insurance Q&A
About BeyondQuotes

Defining Coverage

Applying for a Policy
What is the Best Type of Life Insurance for 80 Year Old Female?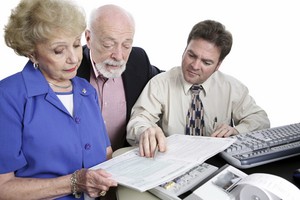 It's common to see people in their eighties purchasing burial insurance. This type of policy is a type of whole life insurance and can be very beneficial to cover all costs related to conducting a funeral. The death benefits derived this package can be quite substantial. One of the reasons for the rise in selling of burial policies is due to the cost of funeral services today. On an average a burial service is known to cost at least $5000 and the prices are predicted to escalate further in the coming years as well. Your family members would have to pay from their own savings to address these costs, which is considerable sum of money. Hence it makes perfect sense for people to go in for burial policies that can take care of all your funeral expenses. With burial insurance you can get a face value amount generally in the range of $2,500 to $25,000. Through burial policies, one can hope to pay for all the costs that are part of a funeral service. The remainder of the proceeds can be used by the beneficiaries to pay for mortgage, loans, educational fees or other such expenses.
Term life insurance for 80-year-old females
Term life insurance is another option 80 year old females can consider in investing. Women who are in fairly good health can apply for term life policies even though they may be a little hard to come by. You could go in for 10-year policies that offer coverage from $50,000 to 100,000 or more. One of the main reasons why they can be considered a good option is that term life insurance is cheaper and quite affordable even for elderly people. Yet getting your hands on a good term life policy can be a little difficult and it may be a worthwhile idea to approach independent brokers who specialize in life insurance for 80 year olds.
Choosing between graded and immediate benefits
People who are in good overall state of health can go in for insurance policies with immediate death benefits. While buying life insurance, insurers will usually conduct medical exams to determine how health the applicant is. If you can maintain your level of health considering your age, then you stand a very good chance of being eligible for policies that offer immediate death benefits.
For 80-year-old women who have considerable health concerns, life insurance policies with graded death benefits might be the next best option. The investor and the insurer can strike up a contract based on certain parameters. For instance an insurance company can sign up a contract where the company would pay the investor the entire face amount if the person survives for 2 years after the policy became operational. In case the death of the investor occurs before the agreed upon time period of two years, then the beneficiaries may stand to receive only a portion of face amount. Or they may get their premiums of the policy refunded along with the interest. With graded death benefits, it is even the more crucial to understand how the policy works so that you can derive the best out of your insurance.
Life insurance that offers low cost premiums for 80-year-old females
As you grow older, the costs of premiums for an insurance policy tend to get higher. The cost of premiums for 80 year-old women is going to be substantially higher than that of a 70 year old person. There may arise instances where you are already in possession of a life insurance policy but feel you are not being adequately covered by it. In such a case it might be better to add newer provisions to your policy to increase coverage rather than going in for a completely new policy.
as-710-120-03062013